Bonjour à tous !
Aujourd'hui, je partage une carte dans les tons marron, avec des marqueurs E uniquement ! Une fois par mois, sur le blog Copic Europe, je publie une carte qui met en avant une famille de couleurs – les E donc aujourd'hui.
Il y a 30 Ciao E et 53 Sketch, un large éventail qui permet des tonnes de combinaisons. Ma carte du jour met en avant 13 marqueurs E, E000, 00, 04, 11, 33, 40, 41, 43, 57, 59, 71, 77, 79 and rien d'autre.  Ma carte finale :
Tampons : Flirty Anya – The Greeting Farm
Mise en couleur : Copic sur Make it Colour Blending Card
Dies : Spellbinders
Papiers : Bo Bunny
J'ai filmé toute la mise en couleur :
Il y a beaucoup de techniques dans cette vidéo, colorier un visage et des cheveux bien sûr, créer un fond simple pour suggérer un mur derrière un personnage, comment rendre l'ombre et la lumière, et la technique du « tip to tip » pour créer une couleur intermédiaire.
C'est ce que j'ai fait pour la robe – E71 et E77 étant trop éloignés dans la numérotation pour obtenir une transition douce, j'ai prélevé de la couleur de la pointe de mon E77 avec mon E71, ce qui n'abîme pas les pointes. Ainsi j'ai créé une nouvelle couleur et un joli dégradé, avec un équivalent de E74. C'est une technique très pratique si on ne possède pas toute la collection de Copic, ou si un marqueur a besoin d'être rechargé en encre 😉
L'image et le récapitulatif des feutres utilisés :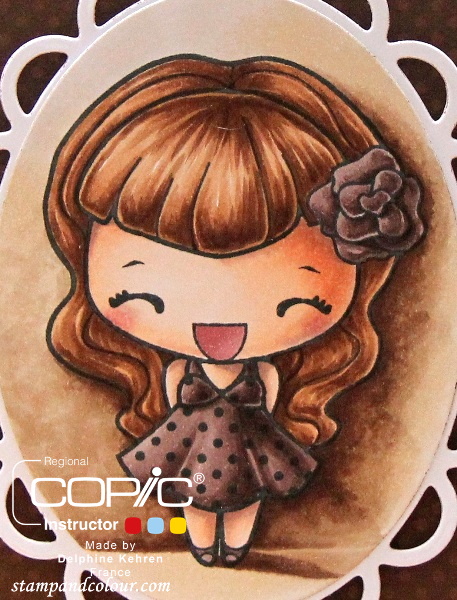 Peau : E000, 00, 04, 11, 71
Cheveux : E33, 57, 59
Vêtements & Fleur : E71, 77, 79
Fond : E40, 41, 43, 47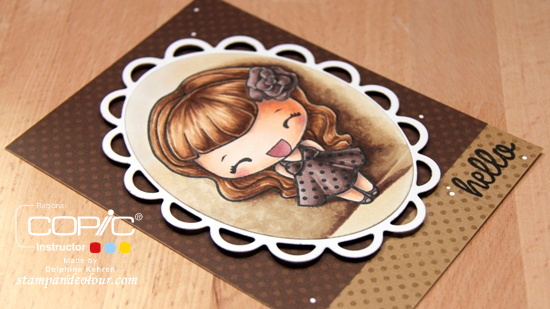 Merci de votre visite et à bientôt ! Bises,
Delphine