Bonjour à tous !
C'est l'heure d'un nouveau challenge chez Kraftin' Kimmie Stamps et cette semaine le thème est HALLOWEEN ! Vous pouvez utiliser tous les tampons que vous souhaitez, mais un tampon Kraftin' Kimmie doublera vos chances de gagner le bon d'achat de $40 pour la boutique à la fin du mois.
Voici ma carte pour ce challenge, avec une petite sorcière que j'adore :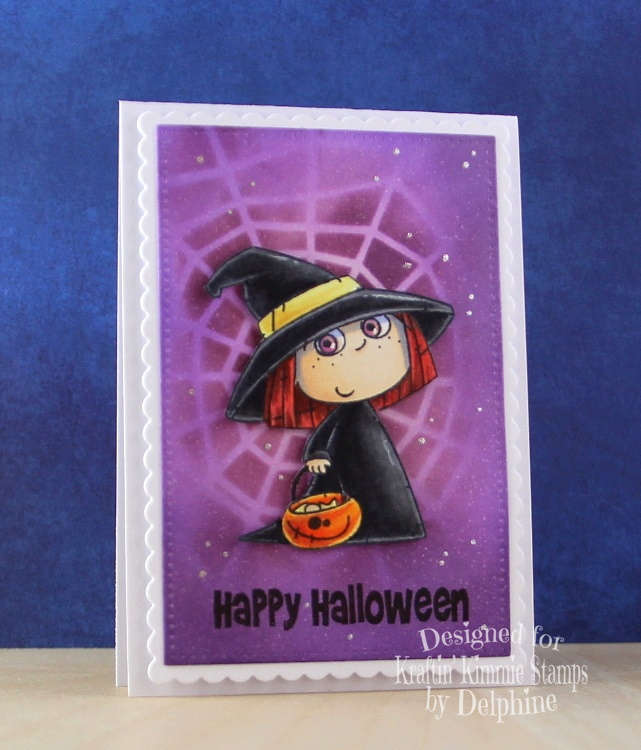 Tampons : Kraftin' Kimmie Stamps I Want Candy
Mise en couleur : Copic et Distress Inks (fond)
Encre : Kraftin' Kimmie Wicked Black et Purple Petunia
Pochoir : Kraftin' Kimmie Stamps Creepy Cobweb
Dies : MFT
Peau : E21, 50, 51, B63
Cheveux : E18, R05, 56
Noir : C5, 7, 9
Jaune : Y11, 26
Citrouille : E07, YR04, 07, Y35
Merci de votre visite et bonne journée ! Bises,
Delphine
You are invited to the Inlinkz link party!