Hello everyone!
I'm back today to share some colouring inspiration! I thought I would focus on the colouring of an image without a background for once – I did have beginners in mind when I picked my image, thinking how important it is to focus on the image and mastering a few techniques before creating backgrounds. I also wanted to show how you can limit the number of markers you need – just by changing one colour in a combo and applying a different quantity of colour 🙂 And so, today's image uses 8 markers only.
I chose a Halloween stamp from the "Des bonbons ou un Sort" set, a set made by a French store named Toutencolle and they have stamps I just love! I find this Halloween cat super cute – and a great opportunity to show how to colour black and grey. To me, buying a set of grey markers is very important when you start – Cs or Ws, Ts or Ns if you have Sketch markers. No need to have all letters and all numbers, just one set with every other number is great!
Enough talking, here is the colouring process video :
As you can see, I didn't ground my character, no shadows below since I plan on using my Copic cat on a future mixed media project and will cut it out.
Here is a recap of all the colours I used: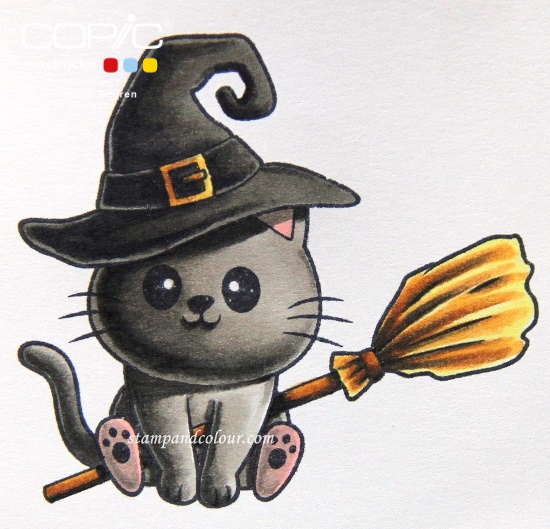 Cat: R20, W3, 5, 7
Hat: 100, W5, 7
Buckle: E37, Y11, YR23
Broom: E37, Y11, YR23, W7
That's all from me today! Thanks for your support and for stopping by! Hugs,
Delphine xx