Bonjour à tous !
C'est l'heure d'un nouveau challenge chez Kraftin' Kimmie Stamps et cette semaine le thème est PAS DE CARRE NI RECTANGLE ! Vous pouvez utiliser tous les tampons que vous souhaitez, mais un tampon Kraftin' Kimmie doublera vos chances de gagner le bon d'achat de $40 pour la boutique à la fin du mois.
Voici ma carte pour ce challenge, avec un tampon du set Hip Hippo-Ray :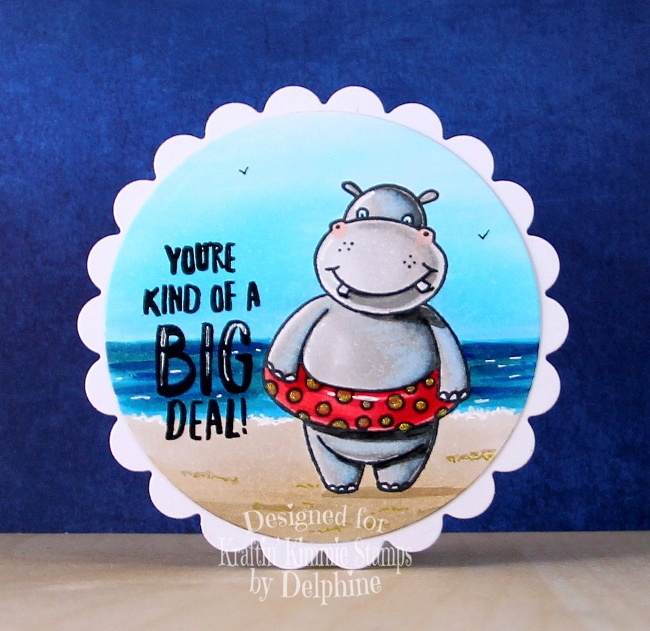 Tampons : Hip Hippo-Ray – Kraftin' Kimmie Stamps
Mise en couleur : Copic sur Make it Colour Blending Card
Dies : Spellbinders
Hippo : B41, 45, T0, 1, 3, 5
Sable : E40, 42, 43
Ciel : B00, 01, 02
Bouée : R22, 29, 35
J'ai choisi un petit hippopotame du set Hip Hippo-Ray et j'ai créé un fond simple au Copic. Le sentiment vient du même set. J'ai utilisé mes dies Spellbinders pour faire une petite carte ronde, un format que j'aime beaucoup et devrait faire plus souvent !
Et ce week-end, des offres spéciales à ne pas manquer :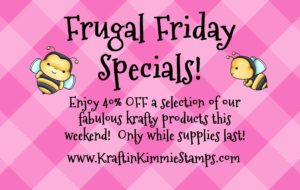 Merci de votre visite et bonne journée ! Bises,
Delphine
You are invited to the Inlinkz link party!